March 2011: MCCC Architecture Students Design for Community Non-Profit in Final Project
Source: MCCC News.
West Windsor, N.J.- Jean Stockdale, executive director of the non-profit Who Is My Neighbor? Inc., located in Highland Park, N.J., watched intently as Architecture students from Mercer County Community College presented their visions for the future of her neighborhood café during presentations on Dec. 10.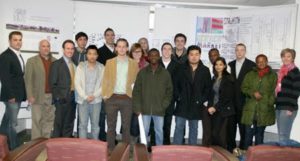 A socially responsible, community-driven entrepreneur, Stockdale is enjoying the benefits of a class project that featured the work of twelve of MCCC's advanced Architecture students. They were given the assignment to create master plans for a sustainable design upgrade and expansion for Stockdale's community kitchen, A Better World Café. The café opened last year in partnership with Elijah's Promise, one of New Jersey's largest programs for feeding the hungry, with the intent to make healthy food accessible and affordable for all.
In the daylong event, students presented renderings, 3-D models and their overall visions for the renovation project to a panel of professional architects including Pat Totaro and Kyle Paul Van Dyke, from KVD Studios in Princeton, and John Cays, associate dean of Student Academic Affairs at New Jersey Institute of Technology's College of Architecture and Design. Also present were other MCCC Architecture faculty and students.
Taught by adjunct instructor Dominick Rodriguez, "Architecture Design" not only includes various facets of architectural design concepts and challenges, but also asks students to translate them into practical projects.
"My students were very excited about the opportunity to respond to the needs of an actual client for their final semester review," said Rodriguez, who is himself an MCCC alumnus, having earned his A.S. in Architecture from MCCC in 2005 and a bachelor's degree in Architecture and a master's in Infrastructure and Planning from NJIT.
"The objective of the assignment was to find ways to incorporate sustainable, green technologies and community interaction in all aspects of the project," Rodriguez explained. "I hope their work serves as a prototype for new sustainability construction methods and non-profit partnerships."
NJIT's John Cays noted that all of the work was impressive. "These were certainly among the best that I've seen at community colleges. I was delighted to be asked to evaluate their work and would be glad to come back to Mercer at any time to do it again."
For Stockdale's part, it was a day well spent. "I was thrilled with the functional and aesthetically pleasing work these students created to address an array of challenges," Stockdale said. "They not only planned their designs, but fully carried them out in their models and renderings." Stockdale, who expects to incorporate some of the students' suggestions into the café's expansion, is working with a project team that includes Totaro, Van Dyke, business developer and social entrepreneur Nick Kubian and Rodriguez.
Stockdale extended an invitation to Mercer's budding architects to visit the café when the project is completed. "They will be able to experience what they have helped create," she said.
The nonprofit is proposing to construct the new building in the downtown redevelopment district of Highland Park. The plans also include an adjacent education center to teach the public about green technologies.