Friend "The Family Den" on facebook for weekly updates!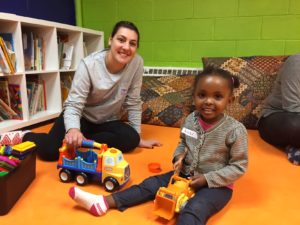 The Family Den is an early childhood enrichment and parenting support program that provides a creative learning environment for children ages infant through four years to develop social, emotional, and cognitive skills while providing caregivers the opportunity to form supportive community. The Family Den serves to bring together neighbors from multiple socio-economic, racial, ethnic, religious, and family backgrounds. Weekly activities include storytelling, music, art, play, yoga, movement, and a parenting support group.


When? 9:30-11:30am, Thursday and Friday mornings *(see calendar below for dates of each semester)
Who? Caregivers and their children ages infant – four years old
Where? 19 S. 2nd Avenue, Highland Park (in the lower level of the Reformed Church)
Cost? Suggested $5 donation per day as financially able*
Please note, this is a suggested donation, and all families are welcome to attend even if unable to financially support the program.
 *If possible, we ask that you make your payment in full for the semester using one of the options listed below. Payment may be made in cash, check, or online by clicking the "donate" link below.
To pay for the Full Year:
___ $250 attending 2 days per week
___ $130 attending 1 day per week
To pay for the Fall Semester:
___ $100 attending 2 days per week
___ $50 attending 1 day per week
To pay for the Spring Semester:
___ $150 attending 2 days per week
___ $80 attending 1 day per week
The Family Den is open on Thursday and Friday mornings 9:30-11:30am for 10 weeks during the Fall Semester beginning on September 14 and ending on December 8. Please note the 6 days when The Den is closed this semester.
The Family Den is OPEN:
September 14, 15, 28, 29
October 5, 6, 12, 13, 19, 20, 26, 27
November 2, 3, 16, 17, 30
December 1, 7, 8
The Family Den is CLOSED: September 21, 22 and November 9, 10, 23, 24
The Family Den is open on Thursday and Friday mornings 9:30-11:30am for 16 weeks during the Winter/Spring Semester beginning on January 4 and ending on April 27. Please note the 6 days when The Den is closed this semester.
The Family Den is OPEN:                                      
January 4, 5, 11, 12, 18, 19, 25, 26
February 1, 2, 8, 9, 15, 22, 23
March 1, 2, 8, 9, 22, 23, 29
April 12, 13, 19, 20, 26,27
The Family Den is CLOSED:
February 16
March 15, 16, 30
April 5, 6
    Click HERE to Meet The Family Den Staff
Story from One Parent in The Family Den:
When I first came to the Family Den, I had lived in Highland Park for six years. As a graduate student, I moved to town to be closer to school. I planned to move back to the county I grew up in after completing my graduate program, but the housing market had other plans. After I had my twins, I felt very isolated. I made attempts to meet other parents outside of Highland Park, but I often found myself in very homogenous settings where I didn't feel I fit in. One day, I took my kids to a program at the library in town, and another mom told me about the Den. Desperate for connection and entertainment for my kids I went the next day.
When my one year-old twins and I arrived at the Den we were Highland Park residents in name only. Two years later, we have many wonderful connections in town and we are truly part of a community. I credit Who Is My Neighbor and the Family Den with helping me truly appreciate the town I'd lived in for so many years. At the Den I meet parents of many backgrounds, with varied parenting styles, there are grandparents, dads, and other caregivers, and a diverse group of moms. I make connections at the Den that expand exponentially and allow me to become involved in our town in other ways and truly feel at home.
The Den is a refuge in so many ways. When my kids were younger I would arrive frazzled and exhausted and felt I could breathe for two hours knowing my caring neighbors, the social work interns, and Hagit had my back. Hagit is warm, gentle presence, but also a wonderful leader who makes a large area full of children of many ages feel organized and manageable. The parent and caregiver circle gives me a place to vent and hear that other parents have struggles too. With time I felt less isolated and began to realize that the community I was looking for wasn't in my past. I was already here. My experience at the Den helps me understand that I am home. Highland Park is where I belong and the place I want to raise my kids. This community is such a gift, and the Family Den helped me truly access what was right outside my door, but just out of reach.